We are very excited to be in the planning stages for the next wine-tasting event in 2023! We will have the date soon so you can mark your calendar. Until then, please join us at our our next event, Paint and Sip in Thursday, October 29th, 2022!
Paint Night to Benefit the Center for Evaluation & Counseling

Come join us for a night of painting to support the Center for Evaluation and Counseling on Thursday, October 20th, 2022 from 7:00-9:00 pm. Doors open at 6:30.
We are excited to work with a local artist from Artytime Parties. We will be painting a fall design on your choice of the following items: a platter (13″ round)
wine glasses (two)
a wine bottle
a mason jar
All materials and instructions will be provided to you. Please select your glass item in advance when you purchase your ticket.
This will be a fun night out with friends while supporting a great cause. Guests are welcome to bring their own (adult) beverages & snacks. Dessert will be provided.
Door Prizes & Tricky Tray Tickets: $55 Each or $100 for 2 Tickets Space is limited so please order your tickets early. Last date to place your order will be October 13th
Questions? Please call 973-512-3700 or email: margaret.pittaluga@centerforeval.org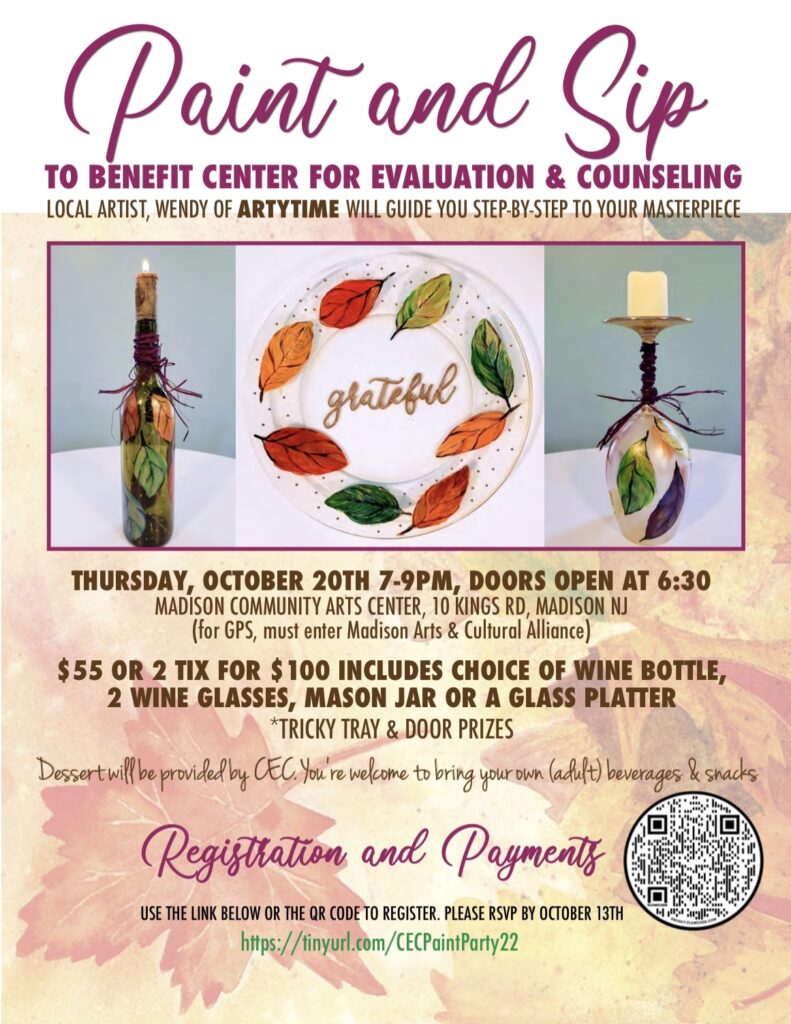 As a 501 (c) (3) nonprofit mental health agency, our mission is to provide unique and progressive forensic and mental health services to individuals and families in need of a supportive and safe place, free from stigmas. CEC works to promote healing and a sense of personal well-being and create positive change. Our dedicated staff accomplishes our mission by providing individual and family therapy to address mental health concerns and to help build resiliency. CEC utilizes "best practices," trauma informed, and evidenced based treatments and strategies in all our programs. CEC remains a strong leader in the field of child abuse and neglect and has been recognized for its work.
We are looking forward to seeing you soon!